About
About
In a time where everyone is talking about single releases and quick fixes on Spotify, something as old fashioned as a record label with focus on the album format sees the light of day. From The Vaults is a traditional record company specializing in in heavy metal rock. We love NWOBHM, power metal, speed metal and good old straight heavy metal! From The Vaults is working with both heritage artists, new talents and re-issues from the past. The people behind From The Vaults are veterans in the scene.
Metal soldier Michael Stützer known from Artillery is the head of A&R at From The Vaults and says "It all started in 1974 with Concerts and Records with Slade and Black Sabbath, then Judas Priest, Iron Maiden, Metallica and Slayer etc. My record Collection of 4000 CD and 1000 vinyls is still growing and now having the opportunity to find, help and support the bands who still have their true metalhearts makes me proud."
We proudly welcome British veteran Tom Noble to From The Vaults. Tom is known as the manager of Tygers Of Pan Tang as well as a long history as a journalist in the British rock-scene. Tom adds "'I am delighted to extend my working  relationship into From The Vaults. Since I took a young Tyger, Robb Weir, with me when I was  reviewing  Black Sabbath and Van Halen I have been hooked on every genre of metal. Seeing it thrive is my aim and my long relationship  with the Tygers of Pan Tang puts me a great position to help"
Kim Vestergaard is a long serving music fan of rock and metal, who in recent years has been a part of the Artillery team, taking care of business, and he looks forward adding his skills to From The Vaults.
"I'm thrilled, being a part of this. NWOBHM and Metal in general, have always been a huge part of my life. By joining From The Vaults, I will be able to participate in a great project, keeping the metal traditions alive. Metal is not only the best genre in music, but also a lifestyle, and I will be metal till I die. My metal heart and brain were formed by The Sweet, Metallica, Motörhead and Ramones".
From The Vaults is distributed worldwide by SPV (physical) and Believe (digital). Marketing, promotion and back-office is handled by Target Group (Denmark). Publishing company: Emanzipation Songs.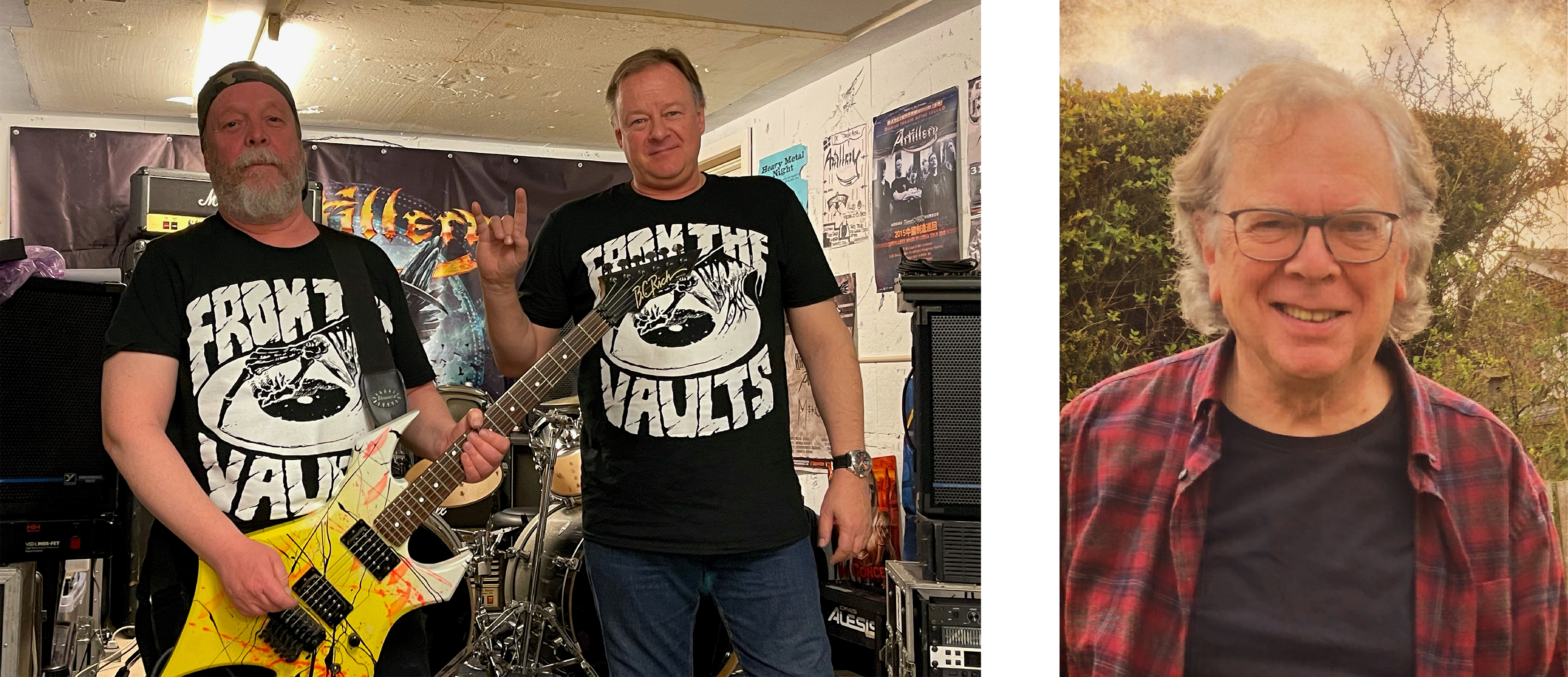 Michael Stützer                                  Kim Vestergaard                                              Tom Noble