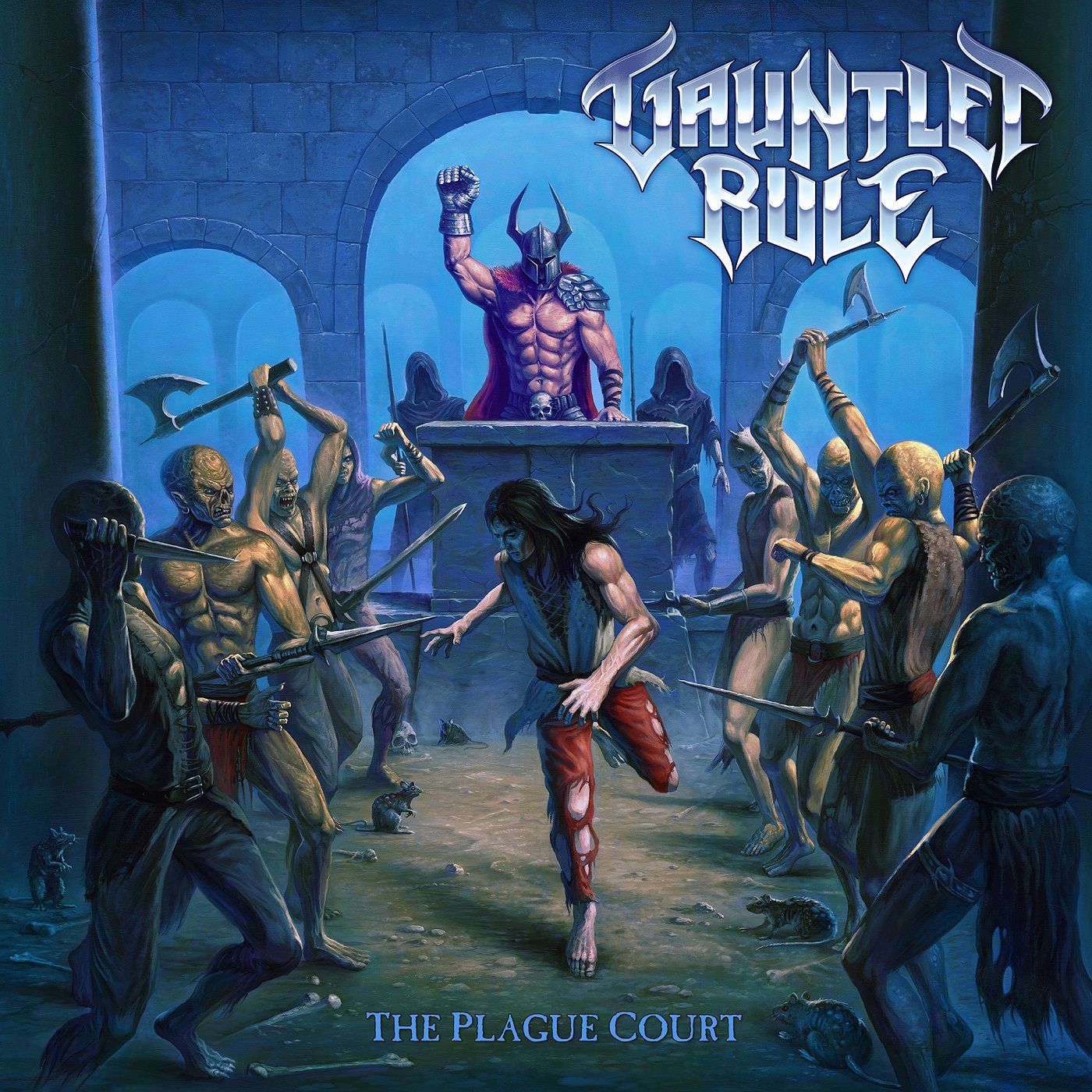 Gauntlet Rule – The Plague Court
Gauntlet Rule was formed in 2019 by guitarist Rogga Johansson (Paganizer, Massacre) and bassist Peter Svensson (Assassin's Blade, Void Moon) with the intent of creating timeless heavy metal. The line up was completed by vocalist Teddy Möller (Loch Vostok).
Despite of, or maybe because of, the style of Gauntlet Rule being a huge departure from the styles of Johansson's and Möller's main bands, the band manages to create an original sounding record yet maintain all the trademarks of classic metal. The songs range from speed metal to almost doom metal, but the focus on fist-pumping heavy metal is never let go. The foundation of the songs is the unrelenting riffing of the riffmaster Johansson, backed by the tight and sometimes adventurous rhythm section of Svensson and guest drummer Lars Demoké. The massive vocals of Möller set the tone for the journey through the landscapes of "The Plague Court". Lyrical themes include horror stories, war, internal struggles, and supernatural concepts; sometimes several of the themes in one song.
The album also features the excellent vocal talents of two guest vocalists. Blaze Bayley (ex-Iron Maiden) lends his world class pipes to the track "Dying for My Dreams", to which he also contributed additional vocal arrangements and lyrical adjustments. Blaze comments: "I really enjoyed working on this song, a great time working on the guest vocal. I wish the guys every success with the release".
The other guest vocalist in the album is is Lorraine Gill from cult US Metal band Taist Of Iron. She adds her haunting yet powerful vocals to the track "A Choir of Angels". "It was an absolute pleasure to work on this project, and I felt honored to be asked to do so", she declares. "The music and lyrics are absolutely top notch and I was blown away by the whole collection! The music stands alone. Not like anything I've heard recently!"
Line-up:
Teddy Möller: lead and backing vocals
Rogga Johansson: rhythm and melody guitars
Peter Svensson: bass guitar
Lars Demoké: drums
Kjetil Lynghaug: solo guitar
Webshop:
https://bit.ly/gaunt-courtCD
https://bit.ly/gaunt-courtLP