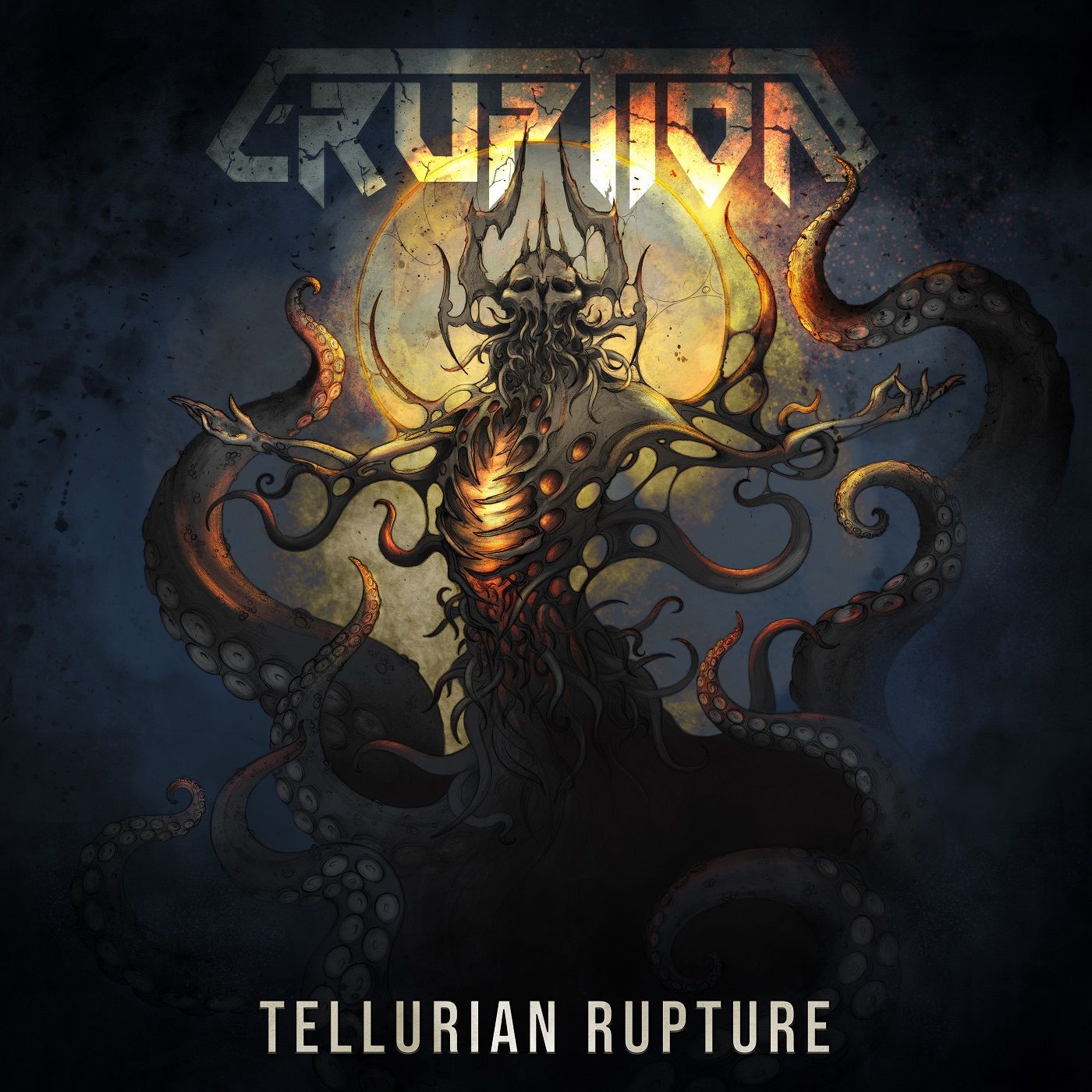 Eruption – Tellurian Rupture
Apocalypse is not necessarily a bad thing. The actual meaning of the word is 'revelation'. But through the ages it was shown over and over again that 'to reveal something' is to 'face something bad'. Of course, we could go on and on by asking 'But what does bad actually mean?' Let's face it – doom or delight is in the eye of the beholder.
The apocalyptic concept behind the upcoming ERUPTION's fourth studio album "Tellurian Rupture" is about bleak, dark, and heavy things. At least for civilizations, that is. Yet with a fall of an empire comes rebirth. Forged under the grey skies ridden with COVID-winds, when every prognosis seemed hopeless and induced despair, "Tellurian Rupture" was not an easy undertaking. Through perseverance, blood, sweat, and tears a behemoth of power-infused thrash metal was born.
"Tellurian Rupture" is Eruption's most ambitious album to date. It's epic, dark and technical, explosive at one time and brooding the next minute, yet it still maintains the foundation on which every Eruption's album was built – catchy melodies, sharp riffing and memorable vocal hooks. The album is a gargantuan listening voyage, an emotional rollercoaster of anger, despair, fear, but also hope.
As the planet's crust ruptures and ancient titans rise once more witness the destruction, embrace chaos, and welcome rebirth!
Formed in late 2004, Eruption is a thrash metal band from Ljubljana, Slovenia. Throughout the years, the band has always kept fast, guitar-based and infectiously melodic metal as their mission statement, culminating in the releases of "Lifeless Paradise" in 2009, "Tenses Collide" in 2012, and "Cloaks of Oblivion" in 2017. All three full-lengths, accompanied by 2014's "Live Transmissions" EP, saw the band explore classic machine gun thrash riffing accompanied by the soaring melodic vocals and sci-fi musings of vocalist Klemen Kalin.
The energetic blend of influences allowed the band to present its music in a dynamic, furious stage show that saw Eruption share the stage with names such as Warbringer, Nuclear Assault, D.R.I, Iced Earth, perform on the main stage of festivals such as MetalDays and Underwall as well as garner excellent live responses from around Europe.
"Tellurian Rupture" is out now on digital, CD and LP (black/gold vinyl, limited to 300 units).
Lineup:
Klemen Kalin: vocals
Gregor Lavtar: guitars
Gregor Kamenšek: guitars
Nika Krmelj: bass guitars
Ivan Cepanec: drums
Webshop:
https://bit.ly/eru-tell-LP
https://bit.ly/eru-tell-CD

Web:
Facebook
Instagram
Bandcamp
Spotify